Many are wondering if they can do art therapy at home. In the midst of the pandemic, ILC offered art therapy online for clients. In this art therapy webinar, Art Therapist, Nina Ayala, MA, ATR-P, shares tips and exercises on working with clients to do art therapy online. In light of the coronavirus pandemic, adapting therapy practices to virtual sessions is imperative. 
View the discussion below as well as some key takeaways.
Art Therapy Through a Screen – What We Learned:
What Is Art Therapy and Why Should We Use It?
Art Therapy is a treatment method that can help clients learn to access parts of their brain they may not normally access through creativity. This can be especially helpful to people who tend to be more analytical, and they may see a shift in perspective when becoming creative. For someone who has experienced significant trauma or grief, these interventions can be helpful in processing, especially when words fail to accurately describe what they've been through. The use of art therapy can result in the client gaining more self-awareness and accessing the subconscious, which can help identify what is important to them. 
Many clients, especially adults, find the idea of art therapy intimidating at first. This is because many have not used art supplies since they were children, and have anxiety about their ability to draw. Art therapy is about the process, not the product. While an art class is typically about making a beautiful piece of art, the goals of an art therapy session are to find new ways to express emotions, how to relax with the art materials, and to learn more about who you are and how you approach things in life. 
Art can be used as a tool to express emotions, resolve emotional conflicts, cope with traumas, and can be a new healthy coping skill to help manage addictions and unwanted behaviors. It also allows you to explore your inner self.
How to do Art Therapy at Home: Obstacles 
When leading a traditional art therapy group or seeing individual clients in person, the art therapist typically has a variety of art supplies on hand for the clients to work with. In this webinar, Nina pointed out that not all clients will have art supplies at home. 
What Are Some Limitations to Doing Art Therapy Online? 
Another challenge Nina mentioned is that the art therapist can walk around and ask questions at an in person group. When doing art therapy online,  the art therapist can only see what is visible on the screen. Because you are not physically there in the space with them, you must overcome this by reminding them that you are there to help with techniques and asking if they need to pause and reflect with you on what they are feeling.
Children can have additional challenges when using telehealth for art therapy. Many of them have short attention spans, so having a backup plan in case their attention shifts elsewhere is important. It is also important to plan sessions around time of day, as some kids can be sleepy after lunch or may have had an intense school session that day. It is also helpful to make sure they come to session in a manner that is comfortable. Having a favorite stuffed animal or blanket on hand in case they need comfort is a good idea since you are not with them in person.

How to Do Art Therapy at Home: Structure of an Art Therapy Online Session
Have a Plan
When guiding clients in an online session of art therapy, come prepared with a plan. Know what is going on with your group or individual clients as this can help to set goals and make plans for the session. If many members of a group are new, you will need to ease their anxieties. An art therapy online session may also include psychoeducation about healthy relationships or other topics relevant to the clients, teaching coping skills, and mindfulness exercises like deep breathing.
Check in With Each Client
In a group setting, it is important to engage each client at the beginning of the session to make them feel included and help them connect with the other members. There are a variety of ways to do this, but having each person name one thing they are grateful for that day is a good way to open the group and get the members ready to work and have discussions with one another.
Introduce Art Therapy
This is important for new groups, or groups with a lot of new members. Explain to your clients that art therapy is a process. It is also useful to describe what a flow state is and the benefits being in a flow state has to a person's well being. 
Introduce the Activity
When introducing the activity to those participating in an art therapy online session, it may be helpful to enhance it with guided meditation, poetry, inspirational quotes, or psychoeducational materials to reinforce the day's goals. 
Art Making
Always have the clients choose which art materials and mediums to work with as it gives the power to the client, and some materials will feel better to them than others. As they move into making art they will have an opportunity to learn more about themselves and where they currently are with their goals. 
Encouragement & Sharing
Encourage your clients once they are creating. Give them opportunities to share and discuss their process and any insights that came up while creating the art with you and other group members. This will help them to gain confidence in what they have created. 
While an art therapist may see meaning in the art a client has made, everyone is unique and may attribute different meanings to symbols and colors. It is up to the client to analyze their art and share these insights with the therapist.
Art Therapy at Home: Tips 
When conducting virtual art therapy, it's inevitable that some activities will feel more comfortable and free-flowing than others. Have your plan, but have a back-up as well and be flexible.
Once a virtual session is scheduled, art supplies can be delivered to clients or residential centers, or a client can use whatever supplies they have on hand. Headphones should be used by the art therapist and the client, and having a pair of backup headphones on hand is a good idea. The session will run more smoothly if both have access to high quality internet, and you and your clients can test your video and audio before the session.
How to Do Art Therapy at Home: Interventions
During the art therapy webinar, Nina discussed a few different art therapy interventions that would be particularly useful for art therapy online sessions. 
Altered Book Making
A book that would have been discarded is made into a work of art. The client can create with collage, draw or paint in the book, cut out shapes or windows, create blackout poetry, or glue on found objects. Altered books are useful for recovery, journaling or documenting your process, and can symbolize creating new chapters in your life. 
Here are some examples:
Bridge to Recovery
Nina asks clients to visualize their challenge (substance use, self-harm, etc) and think about what was in the past, where they want to go, and what that bridge between the two looks like. The client makes a simple drawing of the bridge using watercolors or another medium. The client asks themselves where they are on the bridge, how solid it is, and where the bridge will take them.
Art in Response to Guided Meditations
During guided meditations the client might be asked to visualize being in nature or a place they feel safe. Afterwards, ask the client to put the image on paper. It can be an actual drawing or painting of a specific place (beach, forest, etc.) or abstract colors and shapes. This image can bring the person back to a place where they can find refuge when they feel overwhelmed.
Nina guided the group through a short thankfulness meditation coupled with the Healing Hands exercise.
Healing Hands
Nina's favorite art therapy intervention is called healing hands. The client traces their hands on a piece of paper with a pen or marker. They then place words, pictures, and symbols on the hands. One hand represents the past and everything they are holding onto. The other hand is a representation of the future and what they are hoping for. This allows them to analyze what things from the past are still lingering and gives them an opportunity to let go. It also lets the client look forward, deciding what they want more of in their life.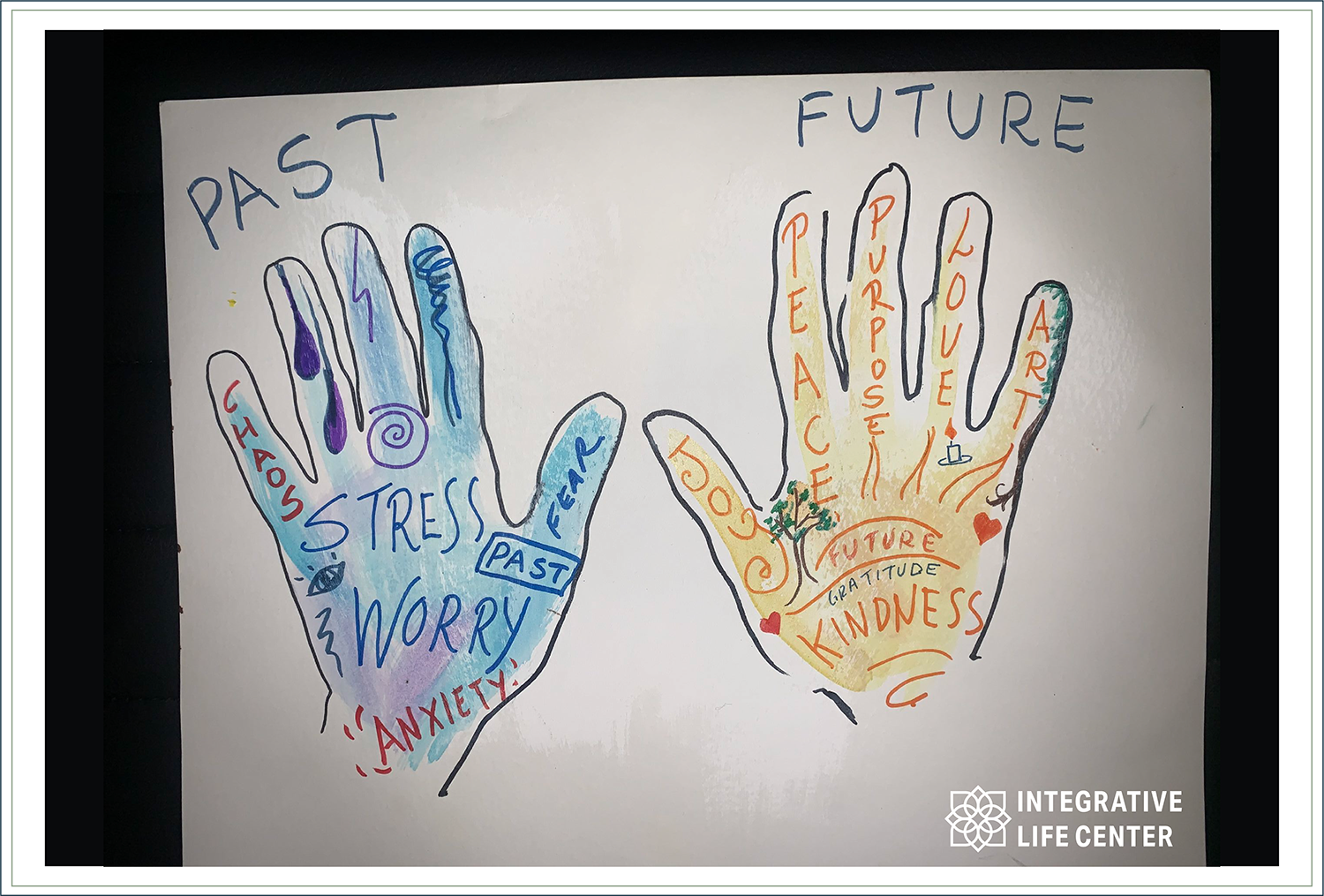 Resources Mentioned in the Webinar: