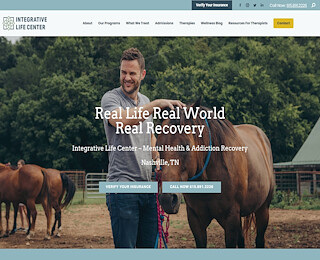 The thought of having to step away from family, friends, and the life that you know for an extended time to undergo inpatient drug rehab in Nashville, TN, might seem difficult to handle. While it might be a challenge, countless benefits come from getting the right level of treatment and care. If you are looking to head down a path to recovery to make changes for the better, then you will see that learning more about residential addiction treatment in Nashville is the best place to start. 
Know the Benefits of Addiction and Mental Health Treatment in Nashville
As with any major decisions, you need to do research. Here at Integrative Life Center, we want all of our clients to be informed, so we have put together the top five benefits of embarking on a journey with our residential addiction treatment in Nashville: 
Structure – Many people benefit from most when taking part in our Nashville addiction recovery program is a bit of structure from a schedule. We will have options available like group meetings, therapy sessions, and different recreational activities as part of the process.
Comfort – Contrary to many common myths and misconceptions, residential addiction treatment for substance abuse disorders does not mean an unwelcome and sterile environment. We take great pride in ensuring that our facility is a warm, caring place for our participants to learn, grow, and make connections with counselors, staff, and peers.
No Substances – A substantial benefit from residential addiction treatment in Nashville is no longer having access to alcohol or drugs. When you or a loved one has been struggling, and substances are readily available as part of everyday life, it opens the door to relapse or consistent use. Being involved in an inpatient program will keep the environment free of any substances to cause temptations.
24/7 Access to Care – There could be any number of withdrawal symptoms that a client may experience when working through recovery steps. Being involved in residential treatment will give you access to healthcare professionals and supervised therapies so that you are safe and have added peace of mind.
Support – While different forms of addiction treatment may offer extensive support, residential addiction treatment is the only type that offers continual support. This means constant access to healthcare professionals and others who are experiencing a similar journey. 
You deserve to have a solid foundation so that you can work on your path to recovery while in a caring environment. When you decide to enter into Nashville addiction treatment with us at Integrative Life Center, you are opening up a whole world of possibilities. All you have to do is get in touch with us so that a member of our team can discuss everything that we have to offer and how you can begin the intake and admissions process.
Contact Integrative Life Center, where you will gain the strength to heal from life's challenges by calling (615) 891-2226. We want you to know that we understand that addiction and mental health disorders may come in a broad range of shapes and forms.
Residential Addiction Treatment Nashville