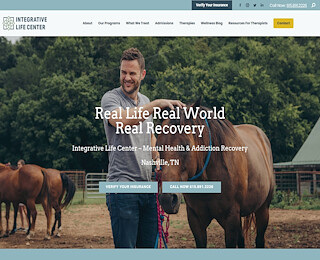 If you've decided to begin your addiction rehab treatment soon, Integrative Life Center is the ideal rehab facility for that. We offer inpatient services, IOP treatment program in Nashville, PHP, and aftercare treatment via telehealth as part of an integrative and structured recovery protocol.
What is IOP, and how does it work?
The intensive outpatient Nashville addiction treatment follows PHP in terms of intensity and overall assistance. It's a core component of the rehabilitation process, ideal for patients who have already completed more intensive forms of rehab or didn't need inpatient care, to begin with. IOP relies on weekly meetings, allowing patients to participate in therapy sessions, counseling, and community recovery activities.
The program will provide numerous treatment modalities designed for long-term assistance, including:
Medication management – Perfect for individuals who have completed the inpatient drug rehab in Nashville, TN, and seek long-term medication management and assistance. This approach is necessary for many individuals struggling with lasting addiction-related side-effects or co-occurring disorders in need of regular maintenance.
Behavioral therapy – Therapies like CBT, brainspotting, psychodrama, DBT, or EMDR are essential to addressing internalized trauma, PTSD, depression, anxiety, and other co-occurring disorders. Many of these conditions are chronic in nature, requiring long-term maintenance, at which point IOP becomes a necessity following the inpatient treatment.
SMART recovery – Self-Management And Recovery Training is a 4-point program designed to teach patients self-sufficiency, independence, and responsible decision-making. It is a Nashville addiction recovery program training recovering addicts in relapse prevention and sobriety management post-inpatient treatment.
But one of IOP's most important aspects is its routine-building aspect. The intensive outpatient addiction treatment for substance use disorders will train you in relapse prevention via routine-building. In this sense, you will learn how to:
Adopt healthier eating habits and become more physically and mentally active
Grow more emotionally and spiritually balanced
Work towards a stable and satisfying career
Improve your financial status
Seek new, healthier hobbies and passions
Strengthen and heal your relationships with your family and friends
Work on your social skills
Learn how to identify triggers and early signs of relapse, etc.
Find the perfect addiction and mental health treatment in Nashville!
If you struggle with an addiction disorder and seek immediate and reliable treatment, you are racing against time. Our IOP treatment program in Nashville might be exactly what you need to turn your life around. There's no telling how severe or advanced your condition is, however, which is why calling our professionals for in-depth clinical assessment and treatment planning is ideal.
Don't worry about facing a time-consuming rehab journey that will keep you away from your daily obligations. We also offer telehealth services for people who can't or won't come to our center for on-site treatment and therapy.
We advise calling our rehabilitation clinicians at 615-891-2226 for an in-depth discussion about your insurance coverage, treatment goals, and recovery services and options. Integrative Life Center ranks among the finest rehab facilities in the business with personalized treatments, top-of-the-line customer support, and a unique holistic approach to rehab and recovery.
Iop Treatment Program Nashville