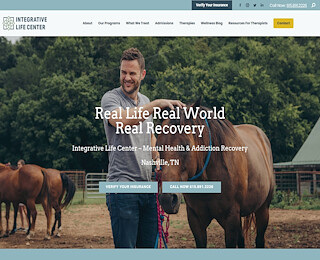 At Integrative Life Center, we know that finding the perfect rehab treatment is key to ensuring a smooth and safe recovery from addiction. Whether you choose inpatient treatment or settle for an intensive outpatient program in Tennessee, you need to base your decision on relevant facts about each program. With that in mind, here's what you should know about these two forms of treatment:
Inpatient drug rehab in Nashville, TN
The inpatient program is the most effective form of rehab treatment, ideal for patients struggling with advanced or prolonged addictions. This refers to individuals facing severe withdrawal, life-threatening side-effects, and uncontrollable cravings preventing them from going sober.
Benefits:
Offers 24/7 clinical assistance
It places patients in a safe, comfortable, and controllable environment
Ideal for promoting a healthy and balanced lifestyle routine
Offers in-depth clinical, psychiatric, and psychological assistance
It generally comprises multiple treatment modalities (behavioral therapies, psychotherapy, pharmacotherapy, holistic healing procedures and activities, etc.)
It is the most reliable form of Nashville addiction treatment with the highest success rates
Cons:
It tends to be more expensive overall due to the housing costs and additional recovery programs
It may not be fitting for everyone due to its intensive nature
Intensive Outpatient Program
IOP stands out as a leading recovery program, providing patients with extensive follow-up care and guidance. It is a core component of the aftercare program, providing recovering addicts with therapy, counseling, and peer support along the way. IOP works best in conjunction with inpatient treatment, PHP, and other treatment modalities, especially when considering addressing advanced addiction conditions.
Benefits:
IOP is the program of choice for individuals who lack the time necessary to join inpatient treatment
More freedom, allowing patients to remain closer to their families during treatment
Contributes to building a community structure, providing patients with long-term peer support
Functions as a link between rehab and a self-sufficient and independent lifestyle
It is more affordable than inpatient care
Cons:
It may not be suited for patients battling advanced addictions or co-occurring disorders
It's not as effective as a standalone rehab program, compared to when paired with more intensive treatment programs
In the end, only a rehab professional can advise you on the ideal addiction treatment for substance use disorders. This is why we advise addiction victims to contact our rehab team for immediate clinical and psychiatric evaluations, both over the phone and in person, at our center.
Joining a leading addiction and mental health treatment in Nashville
If you're ready to quit addiction for good, we advise you to contact our professionals today. Our experts will assess your condition and advise you on the right course of action. Deciding on the right treatment fast can save you a lot of money and health problems in time.
Call Integrative Life Center and prepare for a transformative recovery experience! You can speak to a rehabilitation counselor at 615-891-2226, get more details about our rehab programs, and prepare for intake and evaluation at our facility. Join the intensive outpatient program in Tennessee today and fight for your right to a clean, sober, and fulfilling life next to the people you love.
Intensive Outpatient Program Tennessee