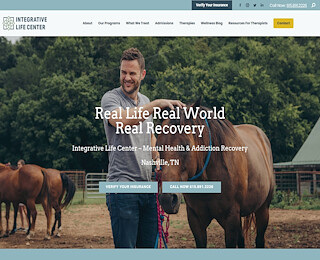 Integrative Life Center offers an in-depth intensive outpatient program in Nashville with an experienced clinical team and highly effective treatments and therapies. Our IOP programs are ideal for those suffering from mild to moderate alcohol or drug addiction and those looking for a step-down level of care after residential treatment.
What is an intensive outpatient program?
Intensive outpatient program is an in-depth addiction treatment provided on an outpatient basis. The program relies on multiple hours of counseling, relapse prevention education, individual and group therapies, and 12-step support groups each week. IOP is ideal for those in the early stages of addiction. The program will require your presence 3 to 7 days a week for counseling, therapy, and clinical treatment and can last 3 to 12 months depending on your recovery needs and long-term goals.
Benefits of our IOP Nashville addiction treatment program
Our Nashville addiction recovery center offers several advantages to clients battling mild-to-moderate addiction disorders. Some of the benefits of our treatment plan include:
Allowing clients to live in the comforts of their home during treatment and enabling them to continue their everyday responsibilities.
Our IOP addiction and mental health treatment in Nashville is more affordable than inpatient treatment
Your family members and loved ones will actively participate in the treatment
Our clients have access to a network of communal support after rehab
It offers the second-highest level of care and structure after inpatient drug rehab in Nashville, TN.
Our intensive outpatient program models are as effective as residential treatment in dealing with advanced addictions and helping people embrace a sober lifestyle moving forward. As a leading rehab for addiction treatment for substance use disorders, we accept all major insurance plans.
Our intensive outpatient program
Our Intensive Outpatient Program (IOP) requires you to participate in a four-day, 12-hour weekly therapy program and one individual session per week. Our therapists will work with you and help you learn new coping and life skills through group therapies, recovery meetings, or volunteering in the community.
Our IOP patients receive up to 12-hours of group therapy each week from our highly skilled mental health therapists. Patients also attend one individual sessions each week with their primary therapist, during which they can discuss their emotional imbalances, insecurities, fears, etc. Some of the psychotherapies we use to address dual diagnosis include: 
Cognitive Behavioral Therapy (CBT)
Brainspotting
Trauma-Informed Yoga
Psychodrama
Dialectical Behavior Therapy (DBT)
Eye Movement Desensitization and Reprocessing (EMDR)
Equine Therapy
Our IOP program requires you to attend a minimum of five outside 12-step meetings (ACA, SLAA, EDA, etc.) per week. IOP treatment is ideal for those completing a partial hospitalization program and individuals looking for continued care after the inpatient treatment. As a top rehab, we also offer gender-separate, eight-resident historical homes for men and women for our IOP clients to help them live independently during rehab treatment.
Call Integrative Life Center at 615-891-2226 to sign up for our intensive outpatient program in Nashville. Our intensive outpatient program is as effective as residential treatment and allows you to maintain your regular routine and home life.
Intensive Outpatient Program Nashville