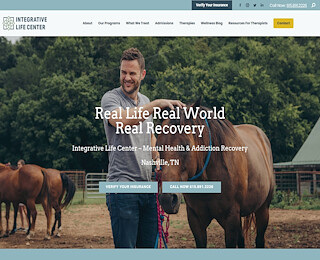 Studies show that over 50% of the addiction victims show signs of co-occurring mental disorders relating to their addiction condition. The ideal rehabilitation program should consider this statistic and provide relevant clinical and psychiatric dual diagnosis treatment during rehab. Integrative Life Center offers personalized dual diagnosis treatment program in Tennessee, helping people manage their co-occurring disorders and find the help they need.
Why dual diagnosis treatment is essential during rehab
Prolonged substance addiction will inevitably cause the brain to experience significant chemical imbalances, leading to mental, emotional, and behavioral issues. Some of the most widespread and disruptive co-occurring disorders include anxiety, depression, suicidal thoughts and tendencies, PTSD and emotional trauma, bipolar disorder, etc. We include here numerous other co-addictions like sex addiction and eating disorders, which require specialized treatment.
Our Nashville addiction treatment includes:
Dual diagnosis assistance.
Relying on medication.
Counseling sessions.
Specific therapeutic procedures to address even the most advanced conditions.
Treating co-occurring disorders during the Nashville addiction recovery treatment is imperative for several reasons:
Rebalances the patient's behavior and emotional functioning
Provides relief from disrupting symptoms and side-effects
Boosts the rehab treatment's effectiveness and the patient's overall responsiveness to rehab
Prevents long-term relapse
Promotes a more stable, healthy, and balanced lifestyle moving forward, etc.
Studies show that patients undergoing dual diagnosis treatment during the inpatient drug rehab in Nashville, TN, will be more stable and sober over the years. This is a crucial aspect to remember, considering that many addiction victims have resorted to substance use in an attempt to cope with their debilitating mental health disorders.
The best addiction treatment for substance use disorders
The ideal drug and alcohol rehab program should provide patients with comprehensive clinical and psychiatric assistance. Our rehab program follows a holistic approach to rehab, providing our patients with:
Targeted medication to cope with withdrawal, addiction side-effects, and symptoms of co-occurring disorders
Dual diagnosis clinical and therapeutic assistance (DBT, MI, CBT, EMDR, and other vital behavioral therapies)
Recreational holistic therapies (equine therapy, mindfulness therapy, breathwork, meditation, self-reflection, etc.)
Relapse prevention training and sobriety education
Extensive aftercare treatment and assistance, etc.
These procedures and recovery modalities are key to ensuring long-lasting sobriety and a stable, fruitful, and balanced lifestyle post-treatment.
Join our addiction and mental health treatment in Nashville!
If you require professional assistance with your substance use disorder or mental issues, we advise you to immediately come to our rehab facility. There's no telling how advanced your conditions are or how they will evolve if postponing the treatment too much. Our professionals ensure optimal medical and psychological assistance in a premier recovery facility and in the finest living conditions.
Our dual diagnosis treatment program in Tennessee could be the solution to all of your problems. Integrative Life Center has an unbreakable success record in the rehab business, having helped numerous people overcome addiction and achieve a sober and healthy lifestyle. Call 615-891-2226, explain your situation to our rehab professionals and make an appointment today. You can prepare for treatment and join the intake as soon as you're ready.
Dual Diagnosis Treatment Program Tennessee