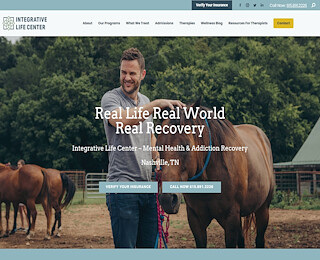 Integrative Life Center is a preeminent drug rehab in Tennessee with an expert medical team and flexible treatment programs, yielding long-lasting results. Our holistic treatment approach helps correct the physical, mental, and spiritual imbalances, enabling patients to attain sustainable recovery.
Statistics about drug addiction in TN
Tennessee is one of the top five US states in terms of substance abuse statistics. As stated by a Nationwide survey conducted in 2010, over 11,700 residents from Tennessee signed up for substance abuse treatment programs. Not to mention, Tennessee is a metropolitan statistical area with the highest rates of illicit drug use in America.
Alcohol ranks as the most commonly abused chemical in Tennessee, with every 1 out of 20 residents dealing with alcoholism or alcohol-related health problems. Our Nashville addiction treatment focuses on helping Tennessee residents regain control over their body, mind, and spirit by equipping them with essential tools to lead a drug-free life.
What can I expect during treatment at inpatient drug rehab?
Our premier inpatient drug rehab in Nashville, TN, offers an immersive healing experience to individuals battling addiction disorders. We have separate trauma-focused treatment programs for men and women encompassing the following components:
35-hours of gender-separate group programming each week.
Two individual therapy sessions per week with our highly experienced mental health therapists
Highly nutritious, tasty, catered meals, nourishing the body, mind, and spirit.
We offer nutritional support, spiritual guidance, and personalized evidence-based treatment
Patients engage in our trauma-focused modalities and holistic programs to address their stressful memories and traumatic past
Our leading addiction treatment for substance use disorders includes nursing supervision, psychiatric care, and medication management.
We are a gender-specific campus with 24/7 residential staff who offer clinical support at all times of the day.
Our Nashville addiction recovery centers provide home-like love and comfort in a resort-like family, making residents feel calm, secure, and at peace. Set in the rolling hills of West Nashville, our rehab for addiction and mental health treatment in Nashville comprises two six-bed homes on 25 wooded acres, offering the ideal ambiance for healing and recovery.
What makes us a top-rated rehab in Tennessee?
Ranked among the top rehabs for substance abuse disorders, our treatment center in Tennessee uses an integrated treatment approach to healing addiction. Here's why we are the best rehab in TN:
Experienced staff – Our team of physicians, RNs, and therapists possess several years of experience dealing with patients battling addiction. Our staff members work 24/7 to help our recovering addicts achieve their wellness goals.
Customized therapies – We tailor our treatments to suit the individual needs of each patient in recovery.
Focus on underlying mental health issues – Our medical staff spends several hours with our patients in 1-on-1 and group settings and uses psychotherapies to identify and address addiction's underlying triggers.
Call Integrative Life Center at 615-891-2226 to learn more about the treatments and therapies at our drug rehab in Tennessee. We are a premier rehab center with evidence-based therapies, experienced therapists, and hundreds of positive reviews. 
Drug Rehab Tennessee