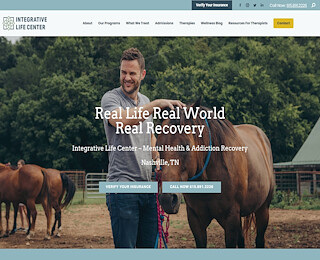 Coming to Integrative Life Center will set you on the road to recovery before your condition aggravates any further. Our drug rehab in Nashville helps patients regain their physical, mental, and emotional balance, which is an invaluable asset in the war against addiction. If you've never undergone a rehab treatment before, here's what to expect at our facility:
In-depth evaluation during intake
The intake process is a defining phase in the Nashville addiction treatment since it provides our experts with invaluable insight in each patient's medical profile. The intake procedure consists of comprehensive physical, mental, and psychological evaluations, allowing our professionals to gather critical information about your condition.
This stage will allow you to meet our team and figure out how to work together towards the same goal.
Detox management
Overcoming the withdrawal and minimizing cravings is the first phase in our Nashville addiction recovery process. We offer gender-specific detoxification services, stabilizing patients via medication, therapy, counseling, and advanced holistic recovery modalities. These include psychotherapy, recreational activities, optimized nutrition, etc., all contributing to a comfortable and meaningful rehabilitation experience.
Dual diagnosis assistance and co-addictions
Our inpatient drug rehab in Nashville, TN, offers extensive dual diagnosis treatment, addressing various addiction-related co-occurring disorders. This includes conditions like emotional trauma, depression, anxiety, PTSD, grief and loss, bipolar disorder, etc. It's also equally important to address co-addictions like eating disorders, sex addiction, suicidal tendencies, etc. These often place a lot of weight on a patient's psyche, making the recovery process much more difficult and uncertain in the long run.
Aftercare assistance and guidance
The addiction treatment for substance use disorders doesn't end with the inpatient program. We also offer PHP, IOP, and telehealth services to patients requiring extensive rehab care or those who don't need inpatient treatment, to begin with. The aftercare program is essential for promoting lasting sobriety post-rehab, helping patients adopt and maintain a healthy and stable lifestyle moving forward.
You can discuss your aftercare options with our rehab specialists, making sure it reflects your recovery needs and goals entirely.
How to start the rehab treatment
If you've decided to begin your addiction and mental health treatment in Nashville today, we urge you to contact our rehabilitation professionals today. The intake process is simple and will take you through several phases:
Phone discussion about your condition, symptoms, withdrawal, etc.
Evaluating your disorder's severity and checking your insurance
Making an appointment for an on-site clinical evaluation
Arriving at our facility to settle the final details and get you ready for inpatient treatment
With the intake process complete, the drug rehab in Nashville will begin, allowing you to join a vibrant community of rehab patients with similar goals and interests. We advise you to begin the rehabilitation process as soon as possible to prevent future addiction-related health complications.
Integrative Life Center is a premier recovery facility, relying on holistic and structured treatment to help patients overcome substance addiction and embrace long-term sobriety. Call 615-891-2226, make an appointment for clinical intake and come to our center today.
Drug Rehab Nashville