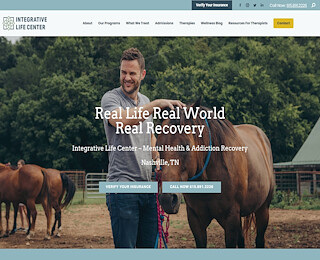 Deciding to join the rehabilitation treatment can be a scary and intimidating thought, but it's necessary. Integrative Life Center promotes personalized drug addiction treatment in Tennessee, helping patients manage their addiction conditions in a supportive, calm, and non-judgmental setting. If you're unsure whether you're ready to join rehab, here are some of the questions to ask yourself:
Do I have a problem?
Substance addiction will take victims through a rollercoaster of experiences and phases, the first one being the denial. This is the main reason why many addiction victims fail to get the treatment they need in the early phases, which would significantly improve the rehab's success. To avoid that, be honest with yourself and admit the problem, if there. With this phase down, you've already set yourself for success.
Joining our Nashville addiction treatment in the early phases of addiction is essential for a smooth recovery experience.
What type of rehab treatment is best for me?
Answering this question is trickier than it might seem. That's because it's nearly impossible to answer it on your own. Substance addiction comes with numerous physical, psychological, and even emotional repercussions, and you have no way of assessing your disorder's profile or complexity alone. You need a professional's eye for that.
Our Nashville addiction recovery experts perform in-depth clinical evaluations, assessing each patient's health status and determining the ideal treatment approach. Call them and have a chat – no strings attached.
Can I manage my addiction on my own?
This is another question that requires absolute transparency and honesty. It's not impossible for people to self-manage their addiction conditions, albeit rare and only in mild cases. If you can't control your withdrawal and experience intense cravings when attempting to quit, that's a clear sign that you need assistance.
In this case, joining our inpatient drug rehab in Nashville, TN, will provide you with much-needed clinical assistance for a relieving recovery experience.
Can I afford addiction treatment for substance use disorders?
Go through your finances, verify your insurance coverage, and see where you stand. Most insurances offer coverage for several rehab services, but you may need to cover specific out-of-pocket expenses along the way as well. If you're unsure of your situation, speak to one of our professionals, and we'll figure out the right solution together!
Do I need addiction treatment NOW?
This is a critical question with a time-sensitive answer. The sooner you join our addiction and mental health treatment in Nashville, the smoother, safer, and more reliable the rehab will be. You need to address your condition in its early phases to ensure a successful recovery and minimize the relapse risks over the years.
If you've decided to seek drug addiction treatment in Tennessee, our facility is ready to take you in. Contact our rehabilitation team at 615-891-2226, set your appointment, and come in for immediate psychiatric and medical examination. Integrative Life Center offers access to advanced treatment modalities and a state-of-the-art rehab facility with all the necessary amenities and recovery programs.
Drug Addiction Treatment Tennessee