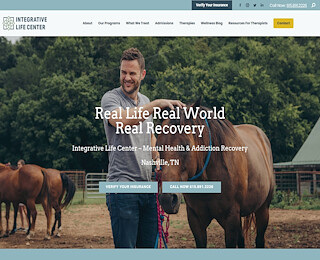 Integrative Life Center is a premier rehab for alcohol addiction treatment in Tennessee with world-class amenities, upscale accommodations, well-rounded meals, and result-driven therapies and recovery programs. We promote sustainable sobriety over the years by addressing addiction's underlying triggers and providing patients with a transformative recovery experience. Here's why our rehab program is ideal for you:
1. Medical stabilization and safety
After several months or years of heavy alcohol consumption, quitting cold turkey can cause multiple advanced withdrawal symptoms. In some cases, the withdrawal symptoms can become life-threatening, making your recovery from addiction all the more difficult. Joining a Nashville addiction treatment can help you receive 24/7 medical attention throughout the recovery process and help you manage the withdrawal safely. As a leading inpatient drug rehab in Nashville, TN, we offer emergency medical care, medication regulation, and treatment for co-occurring mental disorders.
2. Relapse prevention
Relapse is a common occurrence in over 50% of recovering addicts in the initial year after quitting drugs or alcohol. Joining a rehab can help you undergo medical detox, which cleanses your body, rebalances the addicted brain, and minimizes the risks of relapse. Besides, we offer excellent aftercare programs at our Nashville addiction recovery center, which solidifies our patients' commitment to sobriety over the years. 
3. Therapeutic intervention
Our addiction treatment for substance use disorders relies on more than evidence-based therapies and medical care. It also provides therapeutic support, guiding patients through treatment, and preparing them for lasting success with sobriety in the real world. Participating in group and individual therapies, holistic programs, and psychotherapy sessions can help you develop critical coping skills and unique tools for a healthy, fulfilling, and sober life post-treatment.
4. Peer support
Seeking professional help from rehab for addiction and mental health treatment in Nashville is a great way to meet people battling issues similar to yours. You can build meaningful relationships with fellow recovering addicts, share your challenges, and exchange mutual moral and spiritual support along the way. This experience will provide you the opportunity to learn from others' stories, mistakes, and accomplishments. Sometimes, all it takes is to have someone to talk to during rough times, which can significantly strengthen your commitment to sobriety.
5. Aftercare
One of the core benefits of joining a rehab for addiction is aftercare support. Most rehabs offer aftercare programs to alumni patients through counseling, support group programs, and psychotherapy sessions. Ongoing care plays a critical role in helping you stay motivated and committed to sobriety in the long term. Without continuing care programs, you are at a high risk of relapsing within 6 - 12 months of quitting alcohol.
Call Integrative Life Center at 615-891-2226 to address your alcohol addiction in a secure, specialized, and comfortable recovery environment. We specialize in treating alcoholism alongside co-occurring mental health issues, making us the best rehab for alcohol addiction treatment in Tennessee. You can make an appointment today by calling our rehab experts and arrive at our facility for clinical evaluation and treatment as soon as you're ready.
Alcohol Addiction Treatment Tennessee