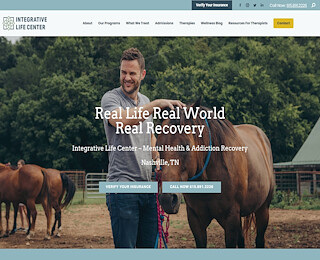 Ranked among the top rehabs for addiction treatment in Tennessee, Integrative Life Center offers the best residential, IOP, PHP, and outpatient programs for men and women battling drug and alcohol abuse disorders. With a highly skilled and friendly staff team, we help our residents embrace sobriety one day at a time.
Does Medicare pay for inpatient drug rehab in Nashville, TN?
Medicare pays for inpatient as well as outpatient treatment of alcoholism and substance use disorders. While Medicare Part A pays for inpatient substance abuse treatment, you have to pay the same co-pay, in case you require other types of inpatient hospitalization services.
Similarly, Medicare Part B pays for outpatient substance abuse treatment services at a rehab, clinic, or hospital. Medicare covers addiction services, such as psychotherapy, patient education, post-hospitalization follow-up, and inpatient and outpatient prescription drugs treatment (Medicare Part D).
Can I use Obamacare to pay for rehab treatment?
Yes, you can use Obamacare to pay for addiction treatment for substance use disorders. The Affordable Health Care Act no longer penalizes an insurance applicant for his/her pre-existing condition.
The ACA act allows even individuals already battling an addiction disorder to apply for a healthcare policy. Drug and alcohol addiction disorders are some of the ten essential health benefits covered by the ACA. Obamacare places addiction and mental health disorders in the same category as other medical conditions.
Can I use private funding or financing for Nashville addiction recovery treatment?
If you do not own insurance or are not eligible for Medicare or Medicaid, you can use private financing to pay for your Nashville addiction treatment. Some rehab facilities offer scholarships to patients seeking addiction treatment, so make sure to speak to the admissions office to learn about the financial options available.
A few rehab facilities offer financing plans that allow patients to pay for addiction treatment after discharge. In most cases, third-party lenders create a loan package and provide it through the rehab facility. There are several ways to pay for your addiction treatment, and the cost of rehab shouldn't stop you from getting the help you need.
Different marketplace health insurance plan and their coverages
Your policy may cover anywhere between 60 and 90% of the cost of addiction and mental health treatment in Nashville, depending upon your ACA plan. Typically, the bronze plans offer 60% expense coverage, the silver plans provide 70%, and the gold plans 80%.
Platinum plan holders enjoy 90% expense coverage, and those with a catastrophic plan can expect to receive 60% total cost coverage. Although, this policy is available only to those under the age of 30 and individuals with extending circumstances.
Integrative Life Center can prepare you for a healthy, happy, and satisfying life; contact 615-891-2226 to speak to one of our treatment specialists, make an appointment, and find out more details about insurance, payment options, and rehab services. Our rehab for addiction treatment in Tennessee has the lowest relapse rates and hundreds of positive reviews from alumni clients. 
Addiction Treatment Tennessee