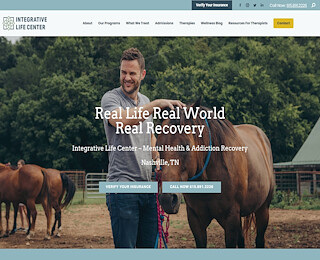 Integrative Life Center ranks among the finest rehab centers, providing patients access to high-end treatment modalities, patient-oriented services, and impressive inpatient living conditions. There are several aspects separating our addiction treatment center in Tennessee from conventional rehab facilities, including:
The structured treatment
Our Nashville addiction treatment follows an integrative and holistic protocol, providing patients with customized assistance and a structured rehab body. The recovery programs we're using include inpatient care, Partial Hospitalization Program (PHP), Intensive Outpatient Program (IOP), Aftercare services, and telehealth assistance.
We have designed our Nashville addiction recovery program to provide patients with long-lasting recovery results, ensuring continuous support and guidance.
Recovery-specific services
The inpatient drug rehab in Nashville, TN, will include a multitude of recovery services that will carry over in PHP, IOP, and telehealth. These include:
Behavioral therapies (Cognitive Behavioral Therapy, Dialectical Behavioral Therapy)
Brainspotting and psychodrama
Holistic modalities (yoga, meditation, journaling, music, and art therapy, etc.)
Relapse prevention education and assistance
Family guidance
Sobriety management tips, etc.
We mix conventional medical and psychiatric procedures with more modern recovery modalities to promote a well-rounded recovery experience with long-term benefits.
Our impressive team of professionals
Our team consists of competent and qualified therapists, health professionals, behavioral health holistic healing experts, nutritionists, psychiatrists, and clinical workers. They have decades of experience in their respective fields, shared among them, and have seen the worst addiction has to offer. Their empathetic, understanding and non-judgmental attitude will help you feel at home at our center, allowing you to recover in a supportive and loving environment.
You can rely on their support no matter the problems you're facing, as they will remain by your side throughout your recovery journey.
Nutrition-related services
Our Healing Foods Program is a core component of our addiction treatment for use disorders. Studies have shown that the gut microbiome communicates with the nervous system and can influence your mood and mental health consistently over time. A diet poor in nutrients will drastically impact your recovery ability and mental stability – a critical aspect when it comes to battling addiction.
Our nutrition expert Mackenzie Reeser will adjust your eating habits, optimizing your nutritional intake without cutting on your ability to enjoy the food. The Healing Foods Program will restore your microbiome health and even prevent specific mental health disorders like anxiety and depression.
Daily recovery events
The addiction and mental health treatment in Nashville includes numerous weekly events like:
Sex Addicts Anonymous (SAA)
Sex and Love Addicts Anonymous (SLAA)
Eating Disorders Anonymous
SMART Recovery
Y12SR – Yoga of 12-Step Recovery
ILC Alumni
Recovery from religion
Intentional Living Group
These events are some of the core procedures at our addiction treatment center in Tennessee, providing patients with support, guidance, and recovery assistance for multiple conditions. If you want to speak to a competent clinician today, call 615-891-2226 and make an appointment for immediate clinical evaluation and treatment.
Integrative Life Center ranks among the finest rehabilitation facilities with advanced treatment modalities, patient-oriented services, and a unique aftercare telehealth program. Call, ask us about our recovery treatment, and make an appointment today!
Addiction Treatment Center Tennessee