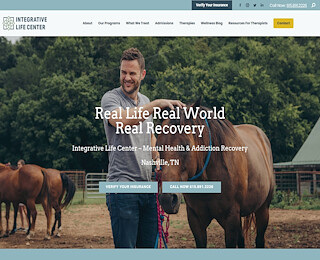 Integrative Life Center offers addiction recovery in Tennessee, helping people address their addiction conditions in a supportive and safe recovery setting. At our facility, we rely on more than inpatient care and detox services to counter addiction and its side effects. We believe that relapse prevention is a critical part of the rehabilitation treatment, probably the most important one in the long run.
Why aftercare treatment is essential for long-term sobriety management
Our Nashville addiction treatment will take you through several recovery phases, including residential treatment, Partial Hospitalization Program, and Intensive Outpatient Program. While each of these treatment modalities come with their own benefits, the aftercare program holds the most weight in the recovery process. The aftercare treatment is a critical component of our Nashville addiction recovery protocol since it helps patients reintegrate into society post-rehab.
The program's goal is to help you:
Control cravings in the long run
Prevent relapse post-rehab
Restructure your lifestyle in a healthier manner (nutrition, workout routine, etc.)
Identify and avoid social and familial triggers threatening your sobriety
Incorporate healthier lifestyle tips into your daily routines, etc.
Studies show that around 80% of addiction victims will relapse within the first year of completing the rehabilitation treatment. Many others will follow the same path years later. The aftercare program will minimize the risks of relapse and ensure the rehab treatment's success significantly over the years.
How telehealth rehab services work
Telehealth is a simple concept, referring to distance rehab services. You don't need to come to our rehab facility to engage in rehabilitation treatment anymore once you've completed our inpatient drug rehab in Nashville, TN. All you need now is a pc or a laptop, and an internet connection, and our team will do the rest. The telehealth program comprises of two core recovery modalities – PHP and IOP.
Partial Hospitalization Program (PHP) – PHP is a fundamental addiction treatment for substance use disorders, relying on 25 hours of professional assistance weekly. This includes two weekly therapy sessions, gender-specific recovery treatments, and numerous other treatment modalities, all from the comfort of your home.
Intensive Outpatient Program (IO) – IOP is less intensive in nature, only offering 12 hours of treatment per week. Just like PHP, it offers multiple recovery modalities, including DBT, CBT, holistic healing procedures (meditation, yoga, art therapy, etc.), and much more.
Both these programs offer access to a Family Support program, allowing your loved ones to participate in the recovery treatment as well.
The benefits of aftercare program
The aftercare program is key to enhancing our addiction treatment for substance use disorders. It allows our professionals to offer addiction and mental health treatment in Nashville to patients who cannot come to our center for on-site treatment or who have already completed the inpatient program.
If you wish to discuss this with our recovery experts, contact our team at 615-891-2226! Integrative Life Center welcomes you to our residential lodge to join a comprehensive inpatient program and begin your transformative recovery journey today. Make an appointment for addiction recovery in Tennessee and assessment, and our professionals will take your case immediately.
Addiction Recovery Tennessee