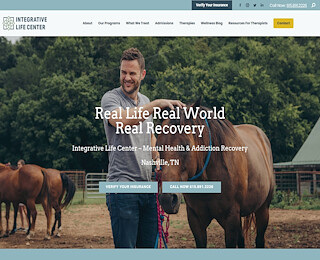 As an addiction victim facing regular withdrawal and drug and alcohol-related side-effects, joining our addiction recovery in Nashville can be a life-saving decision. Integrative Life Center offers premier Nashville addiction treatment in a supportive, safe, and comfortable environment. But the treatment's success heavily relies on your behavior along the way. Here's what to do to get the most out of the rehab program:
1. Accept your situation
The main takeaway is that we cannot treat people who don't need or want our services. Before joining the program, ask yourself about the reasons for doing so. Have you decided to get into rehab to please your family or a loved one? If so, the chances for the treatment to fail along the way are significantly higher. You need to accept your situation, acknowledge its severity, and understand the need for immediate treatment.
Joining our Nashville addiction recovery program at your own accord means you are aware of the situation's gravity and you want help.
2. Trust our professionals
We have a team of competent, empathetic, supportive, and non-judgmental clinicians and health professionals who will serve your interests better than anyone else. You need to trust them so they can provide the best services and clinical assistance throughout the treatment. Our expert clinicians and psychologists will guide you throughout the recovery treatment, instructing you on relapse prevention, emotional management, behavioral stability, etc.
3. Consider the inpatient drug rehab in Nashville, TN
Our addiction treatment for substance use disorders includes several rehab programs, including inpatient programs, PHP, IOP, aftercare assistance, and even telehealth services. Although each of them comes with defining benefits over time, the inpatient treatment is the most reliable and necessary of them all. The residential program will place you in a comfortable and confined environment, safe from external triggers and minimizing the relapse risks.
It is a necessary phase in the rehabilitation treatment, especially for individuals struggling with more advanced addiction conditions.
4. Stay true to your long-term goals
It's not uncommon for addiction victims to lose sight of their recovery goals during the treatment and simply give up. To avoid that, you need to visualize your goals every day and make a promise to yourself to never quit, no matter how difficult the treatment will be. The rehab experience will come with its fair share of ups and downs, but the result is always worth it. You only need determination and strength of character to fight for your health, freedom, and future, and we'll do the rest.
5. Seek additional treatment
Our addiction and mental health treatment in Nashville offers structured recovery via PHP, IOP, and aftercare assistance. We support patients throughout their recovery journey, helping them embrace a balanced, positive, and healthy lifestyle post-rehab. We advise speaking to our health professionals and devising a long-term aftercare program to ensure your sobriety and minimize the relapse risks over the years.
Integrative Life Center is a beacon of hope for addiction victims seeking addiction recovery in Nashville. Call our professionals at 615-891-2226, discuss our treatment services and recovery options, and come to our center for a clinical evaluation today!
Addiction Recovery Nashville